You deserve to be comfortable
no matter where you work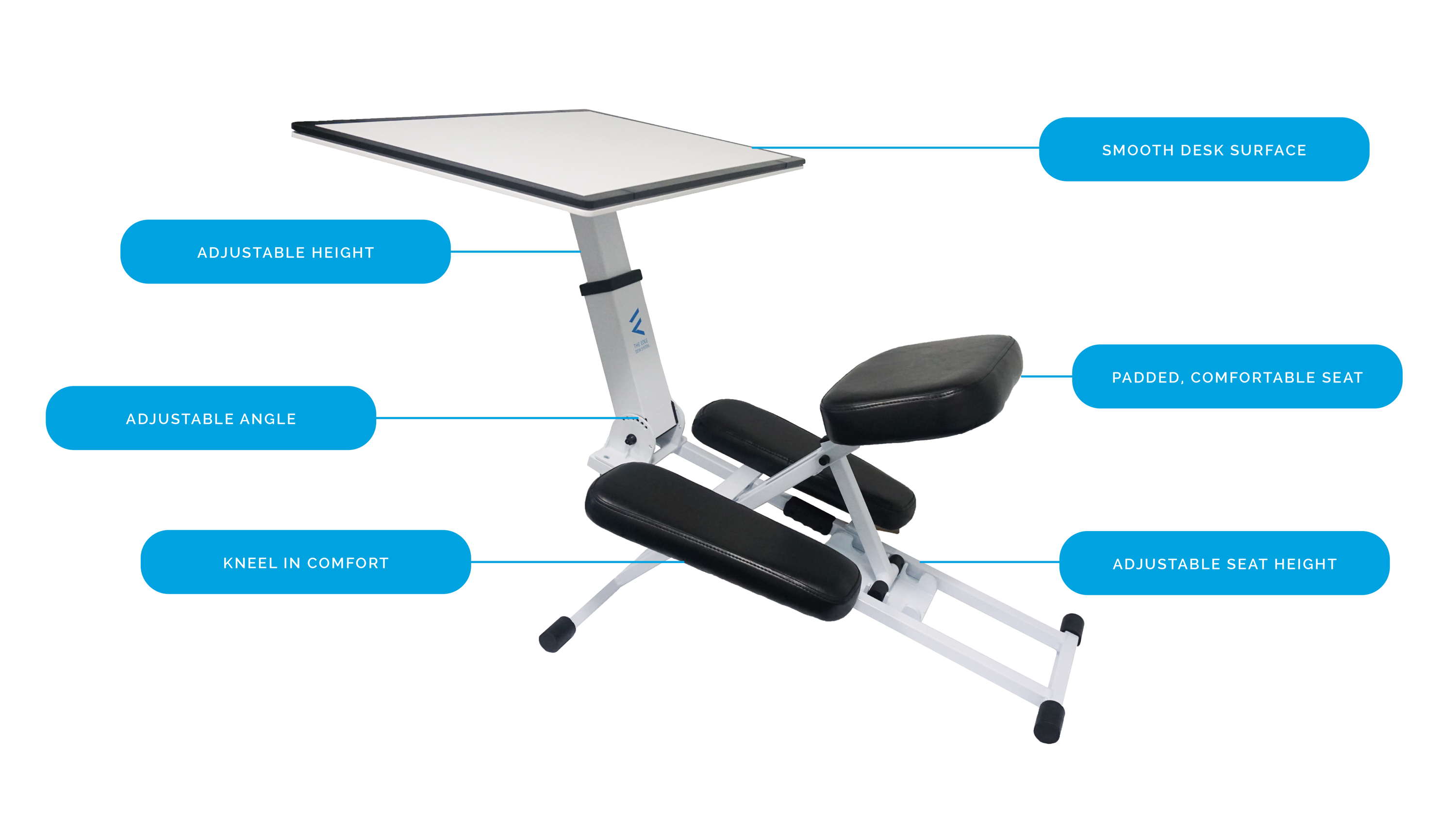 The Edge Desk is the world's only all-in-one ergonomic kneeling chair and desk designed to be completely adjustable to your body, promoting a healthy body posture that reduces muscle fatigue and pain from sitting incorrectly at a traditional desk or standing all day.
Easy to use and even easier to set up
Arrives fully assembled — no tools needed!
Sets up in seconds.
Adjustable Seat, Desktop Height and Angle.
Comfortable for Hours.
Wheels make it Super Mobile.
Fits in your trunk with ease.
Folds down to just 7" to store away easily.
Out of the way when you need more space.
Helps maintain a healthy work / life separation.
Desktop rotates easily.
Can convert to an Artist Easel for creative projects.
Add Accessories to keep you focused and organized.

We know you'll love The Edge Desk, but you have 15 days to decide for yourself!

Our hands on Customer service is here to help with any unforeseen issues under the Edge Desk's 12-month limited parts and repair Warranty.
Customers in 41 countries around the world love their Edge Desk!

OUR 5 STARS CUSTOMER REVIEWS


"The Edge Desk is my desk of choice… portable, comfortable, doesn't fatigue me.. great for my back"
"I can't function without this desk right now"
"My expectations have been exceeded! The small footprint, versatility, practicality and ease of use has afforded me the ability to transition easily from work to working from home!"
Chief of Engagement, Cleveland Metropolitan School District

We're also a family business, my dad is our chiropractor (Dr. Alberto Achaval) and I'm his clinical chiropractor assistant. We all love the Edge Desk.
"Your Back Will Thank You For The Edge Desk System"
"This is really the most extraordinary desk I have used.It's a lifesaver!"
"The Edge Desk fits in the industry as a linchpin for the body to remain healthy during the long inactive hours required by today's all gray-matter worker who is bound to a computer and a sitting position for hours every working day."
"MOVE OVER STANDING DESKS, THE KNEELING DESK IS THE NEWEST OFFICE TREND"
No Back Pain!
"I purchased and have been using Edge Desk for a few months now. I suffer from a herniated disc in my lower back. This system works perfectly for me."

"Ergonomically designed like a massage chair with kneeling pads in place to take pressure off the user's back while displacing the strenuous weight of sitting all day, The Edge aims to offer focused productivity, comfort and flexibility all in one."
"The Edge Desk provides an ergonomic sitting position, with knee supports that can relieve the tension of sitting in a traditional chair."
"No Back Pain! I suffer from a herniated disc in my lower back. This system works perfectly for me. The Edge Desk is great!!!"

"Good and Versatile! A few days in of this new WFH order, I knew I had to find a more ergonomic option. This desk stores flat nicely"

"Excellent for posture while working, and portability! We love this kneeling desk. The base and seat are very well-built and sturdy."
"Most Comfortable Kneeling Chair! It is the most comfortable kneeling chair I have found. I highly recommended it!"
"Best purchase I've made! Love this desk! We live in a small house with no room for a study and this desk is the perfect solution."
"Take it Anywhere, easily! We use this to work outside, or in whichever room of the house makes most sense. Folds very nice and flat."
"The fantastic design allows for different heights and angles of the seat and work surface is very well executed."
"I use it while playing video games instead of a gaming chair. It is solidly built and helps me keep my back straight."
"Love this desk! We live in a small house with no room for a study and this desk is the perfect solution."

« If you are looking for a portable, space saving, versatile and ergonomic work station, The Edge Desk System is a wonderful Choice »
« It's very good for people who require an ergonomic setup that is gentle on the spine, yet it's sturdy enough to travel to an office if needed »
Improve Your Overall Wellness With The Edge Desk
Reduces Back Pain.
Strengthens your Core Muscles.
Adjust to Support your Ideal Posture.
Legs rest in a Comfortable Position.
Sit in Comfort for longer Periods of Time.
Easy to Stretch your Toes & Feet.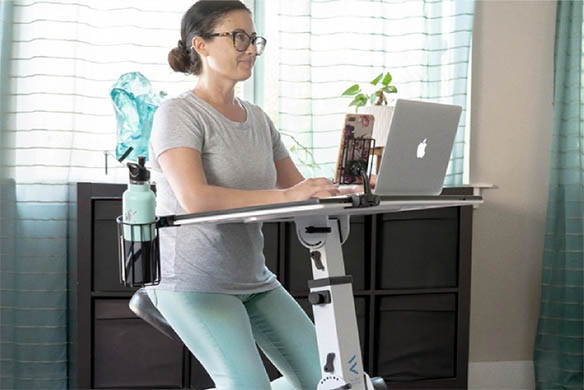 Revolutionary Flexibility
Reduces Back Pain

Strengthens your Core Muscles

Adjust to Support your Ideal Posture

Legs rest in a Comfortable Position

Sit in Comfort for longer Periods of Time

Easy to Stretch your Toes & Feet